AcoustiPack™ LITE (APL)
AcoustiPack™ LITE is a cost-effective multi-layer soundproofing materials kit for standard size and small computer cases, including HTPC's and SFF cases. Each pack contains 2 large sheets of sound-proofing materials using our unique 4mm (2-layer) acoustic composite. This material is ideal for fitting within the narrow confines of modern enclosures yet it has superb noise reduction capabilities.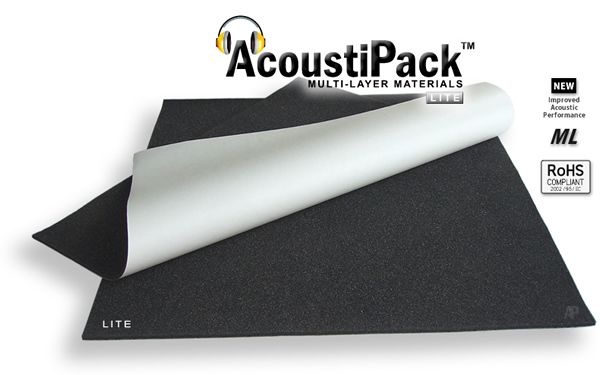 AcoustiPack multi-layered acoustic materials for computers and electronic enclosures.
AcoustiPack™ LITE PC Soundproofing Kit (APL)
These soundproofing materials have been designed to achieve maximum acoustic attenuation over a broad frequency range:
High Transmission Loss


High transmission loss is the composite material's ability to impede airborne noise.

High Noise Reduction Coefficients


High noise reduction coefficients is the composite material's ability to absorb airborne sound energy with minimal reflections.

Damping


Damping is the composite material's ability to attenuate structure-borne vibration on metals and other substrates thereby reducing reradiated noise.
AcoustiPack LITE 2-Layer Materials
AcoustiPack™ LITE contains 2-layer acoustic materials. Comparative small and large scale acoustic tests with alternative single-layer PC sound-proofing materials demonstrate that AcoustiPack™ multi-layer materials are more effective and safer, whilst still remaining as thin as possible.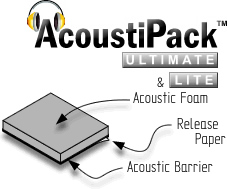 Acousti Products 2-layer acoustic material design showing base acoustic barrier layer.
The upper layer, immediately opposite the noise source, is a layer of semi-open cell dense acoustic foam which provides a low-reflection surface. This upper layer of foam provides some sound attenuation, especially of higher-frequency sound (>1kHz). The very dense black limp 'plastic' layer at the base of the 2-layer material is directly attached to the substrate. This layer acts as both an acoustic barrier (effectively attenuating the transmission of sound energy through the material) and as a damping layer, reducing vibration in the substrate (usually a thin steel panel in many PCs and server enclosures).
The 2-layer materials in the AcoustiPack™ range of kits are 4mm thick. Acousti Products manufacture thickness greater than 4mm for OEM and manufacturers, but the thickness in the AcoustiPack™ kits is the thinnest we can produce to facilitate fitting the materials in small and narrow spaces inside modern PC cases.
Overview - AcoustiPack™ LITE
AcoustiPack™ LITE Specifications
Product Code:
APL
2-Layer Sheets:
2 (4mm ± 10%)
Total Number of Sheets:
2
Product User Instructions:
Included
Pack Dimensions
Sheet Dimensions: (WxD, ±1%)
457 x 431mm (18 x 17")
Total Sheet Area:
0.394m² (4.24ft²)
Other Details
Flammability Certificate:
UL94-V0 (UKAS Accredited)
RoHS Certified
YES
Features & Benefits
Cost-effective solution for HTPC's, SFF and smaller up to standard sized modern PC cases
Enough materials for a typical case covering the case side panel (door) opposite the motherboard, and case inside roof and floor
Materials in this pack are only 4mm thick - and may even fit behind the motherboard (without touching PCB components)
Thoroughly tested to meet UL94-V0 flammability standards for IT equipment
More effective than alternatives, especially single-layer materials of lower density
Does not caused internal temperatures in your PC to change significantly, when fitted correctly
Fitting recommendations included with every kit
Suitability
Acoustic materials are suitable for any PC, but best suited for:
Large Tower and Desktop PCs
Gaming PCs, and High-Performance & Other Specialist 'noisy' PCs
Pedestal Servers, 19" Rackmounted Servers
19-inch Networking and Comms IT equipment
Case Form Factors: E-ATX, ATX, BTX, DTX
For more technical and installation information please visit the Acousti Products US website.
Acoustic Materials manufactured in the USA.
Please take care to read the installation recommendations before installing this product. These materials are installed at the installer's own risk.
If you are a reseller or a system builder we offer special pricing on bulk orders of this product. Contact us at sales@quietpcusa.com or call Toll Free (877) 205-2020 for more information.